Capturing moments of hope and peace.
Nothing is more exciting than a fresh box of Crayola crayons! The big 64 pack has always been my favorite, you know, the one with the sharpener on the back. When I was little, I can remember always asking for paint, colored pencils and drawing pads for Christmas. In 5th grade, my art teacher told my mom I had "a gift for art" and I was hooked! I loved seeing my projects hanging along side of others during the art shows in junior high. In high school, art was my favorite class and I even expanded my experiences in different types of art like jewelry making and drafting. In college, I noticed a shift in my thinking. I was suddenly a small fish in a big pond. I became more aware of the amazing artists around me. I compared myself to others and I doubted my ability as a fine artist. I believed the starving artist myth… that only a select few would be able to make a living in the field of fine art. I told myself I didn't have what it takes to make it as a "real" artist and I chose, what I thought to be, a safer career. I decided to pursue graphic design.

After college, I worked several years as a graphic designer, got married and then a few short years later, we started a family.
At 12 weeks pregnant with our first child, I went to work one Monday morning. Upon arriving, I was called into a meeting. I was blind-sided by the news I had lost my job. They were restructuring the art department and I didn't make the cut. I was completely devastated. During our planning and preparing for a family, there was never a thought that I wouldn't be working. But, God knew this was going to happen and we were in His hands.
I had long ago put all dreams of fine art away. But, losing my job destroyed what little confidence I had in my artistic ability. I poured my whole self into being a wife and mom. I started watching our friends daughter who was only 6 months younger than our daughter. Not long after that, we had our son. With 3 kids under 3, my life was full of tea parties, diaper changes, piles of laundry, preparing 3 meals a day and complete exhaustion.
While I loved the time with the kids, I can remember feeling lost. I didn't do a good job of taking care of myself. At one point, I asked my husband, "What did I do before kids? What did I like? How did I spend my time?" I began trying to figure out who I was.
As my kids grew, some of my old desires began to bubble up. Alongside my kids, I started playing with crayons, paint, colored pencils, play-doh and construction paper. The artist in me begged to get out and I felt like a new person!
I spent a long time creating in art journals that I never shared with other people. I art journaled through various events from my life. Some were joyful and some were painful. I realized that art helped me communicate feelings and emotions that were impossible to express with words. I experienced tremendous growth and freedom during this private time.
Not long after that, I began Bible journaling. The combination of God's word with art was even more healing for my brokenness. I couldn't keep my art to myself any longer. I wanted others to claim the same hope and peace that I had found. I shared the art that God placed on my heart along with the lessons that came directly from scripture.
I learned, not only does art help the artist, it also helps the person experiencing the art. Art has the ability to evoke emotions. Art can bring joy, hope, laughter and color to our world. I discovered, in our technology driven world, we are often missing emotional connection and I believe art plays a substantial role in helping us find our way through the darkness and back to the connection of community.
Because of my own journey, I believe that art has the ability to heal, to bring hope and peace into our brokenness and into our lives. I don't believe we are just supposed to get by in this world. Jesus came so we may have life to the full and yet, His message is often forgotten, silenced and drowned out by busyness. I want to use the talents He has given me to wake all of us up and to serve as a reminder to seek the fullness he promised.
Creating art helps me slow down, absorb beautiful moments and be inspired.
I pray, my art causes you to pause, breathe deeply and rest.
I want you to experience the peace and hope that is available to all of us.
If you simply must know more…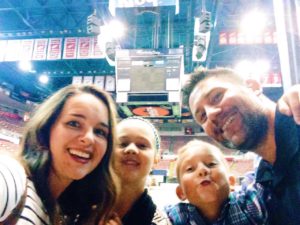 I believe laughter is great medicine, but sometimes we really need a hug and someone to listen. I cherish being the one to do that for others.
I love watching Hallmark movies, even though I know how they will end.
I'm an introvert and unless you hit on a topic I am passionate about, I am quite happy to listen rather than talk.
My husband is a wonderful cook, therefore I avoid it whenever possible… I think popcorn or cereal are perfectly acceptable meals!
I have seasons where everything must be organized and other seasons where I'm ok with chaos.
I love folding fitted sheets and do my best thinking when folding warm laundry. (Drop yours off, I'm happy to help! haha!)
Occasionally, pajama days are necessary.
I love camping with my family and friends. There is nothing better than a campfire and s'mores!
I am a Christian. It is the foundation of who I am and what I believe. I am a beautifully flawed human. Who has been broken, who has made mistakes and who is still deeply, fully, unconditionally loved!
Want even more?
Sign up for my newsletter to get bi-monthly information about my art, what is inspiring me and general ramblings! (I also include free art and special sales throughout the year.)